Sell Your Taylorsville UT Home Today ! Buying Homes Throughout Taylorsville & The Rest of Utah.
You have countless reasons to sell your Taylorsville, UT, house. You may be facing foreclosure or need more space for a growing family. Whatever the reason, We Buy Salt Lake City Houses will make you a fast cash offer. We are the solution for a fast, hassle-free sales process. Take advantage of a quick offer from smart and reliable alternatives to realtors.
Sell My House Fast in Taylorsville, UT
You've likely heard horror stories from friends and family who sold their house on the market. The process is often daunting and stressful. Few of us want to deal with such stress. At We Buy Salt Lake City Houses, we are fully committed to making the sales process smooth and beneficial for you.
First and foremost, we cut down on the lengthy process to sell a house. When working with a realtor, the process could take months, and you'll be paying the entire time for their service. That's not how we work, though. Instead, you'll receive a cash offer for your property after we've had a chance to inspect everything. It's that simple!
Home Selling Process in Taylorsville, UT
We built a home selling process in Taylorsville, UT, to be as smooth and straightforward as possible. You won't be dealing with long contracts, bank loans, or realtors who want their cut. Instead, we need your contact information and current address of the property in question. From there, we will contact you and schedule an appointment to examine the house. Everything is completed fast, ensuring a quick turnaround time for you may continue with your life.
After the inspection, we'll make you a cash offer. We will purchase your old house at no cost to you, and we'll close on your schedule!
We Even Buy The Most Ugly Houses – No Matter What's The Condition
At We Buy Salt Lake City Houses, we believe in helping homeowners achieve their short- and long-term goals in the quickest, easier manner possible. As such, when you want to sell your home, give us a call. Unlike many real estate agents in the area, we can look past the overall condition of your property. We know that things happen. We know that age and damage are going to occur to any property. Your home is not the exception.
When it comes time to sell your ugly house, we'll make you a reasonable cash offer. Our real estate investment team look at the possibilities of your property. We can see past the peeling paint and aging wiring. We can look past the water or fire damage. We'll purchase your house quickly and for cash today!
Sell your Fire or Water Damaged Houses Quickly
A disaster can strike your home at any moment. You could be at work when a pipe bursts in the bathroom, or perhaps cooking dinner in the evening when a grease fire catches. Either way, the resulting damage can be quite extensive and costly to repair. Most homeowners do not have the funds set aside to repair or renovate their home following such a disaster. They rely on homeowners insurance. Would you want to increase your premiums if you plan on selling the home anyway? We know we wouldn't.
If you planned on selling the property, then go ahead and give us a call 385-900-2274. Even with noticeable fire or water damage to the house, we'll make you a cash offer. Our real estate investors can look past any damage to your house and see the potential. We'll buy it quickly!
About Taylorsville, UT
Taylorsville is a city located in Salt Lake County, Utah, United States. It is situated approximately 10 miles south of Salt Lake City and has a population of approximately 60,000 residents. The city covers an area of 10.7 square miles.
Taylorsville is known for its rich history and diverse community. The city was originally settled in the mid-1800s by Mormon pioneers and was named after John Taylor, who was the third president of The Church of Jesus Christ of Latter-day Saints. Today, Taylorsville is home to a diverse population, with a mix of ethnicities and cultures.
The city is home to several parks and recreational facilities, including Valley Regional Park, which features sports fields, a skate park, and a water park. Other notable parks in the area include Taylorsville-Bennion Heritage Park and Taylorsville Community Garden. These parks offer a range of activities for residents, including hiking, biking, and gardening.
Taylorsville is served by the Unified Police Department, which provides law enforcement services to the community. The city is also home to several schools, including Taylorsville Elementary School, Bennion Junior High School, and Taylorsville High School.


Remember, we will offer to buy any home, in any condition.
See what our Taylorsville homeowners are saying about getting fast cash in their pockets!
Local Reviews for Taylorsville, UT
WeBuySaltLakeCityHouses.com
Rated
5.0
out of 5 stars based on
1
customer reviews
---
Fast, Fair and Friendly
Julie

-

Taylorsville

,

UT



Review of WeBuySaltLakeCityHouses.com
Paul was awesome throughout this experience. Made it easy to move my dad to a Senior Living Apartment !
---

Paul B.
SELL MY HOUSE CASH. Seller's of the mobile home were looking to sell the Mobile Home in "AS IS" condition before the end of last month so they didn't have to pay the lot rent. We were able to close the property in less than three days putting cash in the seller's pocket.
Near
950 W,

Taylorsville

,

UT

84123

Paul B.
Sell House Fast. Looking at a mobile home of someone that wants to sell by the end of the month. We will give them a cash offer today!!
Near
W 4730 S,

Taylorsville

,

UT

84123

Paul B.
As we have the opportunity to meet with homeowners on a daily bases the question is often asked..."what is the right way to sell my home?" The answer is there isn't a "right way". It comes down to what's most important to the seller. Putting the home on the market is often times the best thing to do financially but there are other things to consider. This was the exact conversation I just had with a seller. Your priorities should be what dictate the way to sell your home.
Near
W 4105 S,

Taylorsville

,

UT

84123

Oscar U.
Helping my guy figure out our cabinets at a house we are rehabbing in Taylorsville, UT
Near
Royalwood Dr,

Taylorsville

,

UT

84129

Oscar U.
I'm checking on a rehab we just started in Taylorsville, UT. It looks like mud and texture are up around the house
Near
Royalwood Dr,

Taylorsville

,

UT

84129

Paul B.
Checking in on a property that needed the roof replaced. A new roof was installed over the weekend and it looks great!
Near
Royalwood Dr,

Taylorsville

,

UT

84129

Oscar U.
Checking on our rehab in Taylorsville, UT. The roofers are here and in action tearing off the old roof.
Near
Royalwood Dr,

Taylorsville

,

UT

84129

Oscar U.
Meeting with one of my contractors to go over the scope of work for a house we just bought in Taylorsville, UT
Near
Royalwood Dr,

Taylorsville

,

UT

84129

Oscar U.
Checking on the crew cleaning out the home we just bought in Taylorsville, UT. The crew is downe. Now we can make our plans on what we want to do to this home.
Near
Royalwood Dr,

Taylorsville

,

UT

84129

Oscar U.
Checking to see how our trash out is going in Taylorsville, UT. Looks like the waste container is full. We will get another one here ASAP. We like to make it easy for all sellers and we tell them to take whatever they want and leave whatever they don't want. We'll take care of the trash.
Near
Royalwood Dr,

Taylorsville

,

UT

84129

John B.
Purchased the property in "AS IS" condition for cash. Allowed the sellers to live in the property rent free for 30 days after closing. The property is in need of some updates and a little TLC.
Near
Royalwood Dr,

Taylorsville

,

UT

84129

Gordon P.
Another very productive day, this one in Midvale working a vacancy turn. There's always an array of small tasks that seem never end I g but not this time. No doubt what was a very nice home for the last resident will be do again dog's new family. The repairs, upgrades, and preventive maintenance should minimize disruptive or inconvenient service calls and workorders.
Near
S Redwood Rd,

Taylorsville

,

UT

84123

Paul B.
Spent the last 45 minutes talking with the owner of this Salt Lake City home discussing her different options. The home had been on the MLS for the last 60 days and unfortunately was overpriced. Hopefully we were able to provide some more insight on the real Value of the home.
Near
Valley Heights Dr,

Taylorsville

,

UT

84129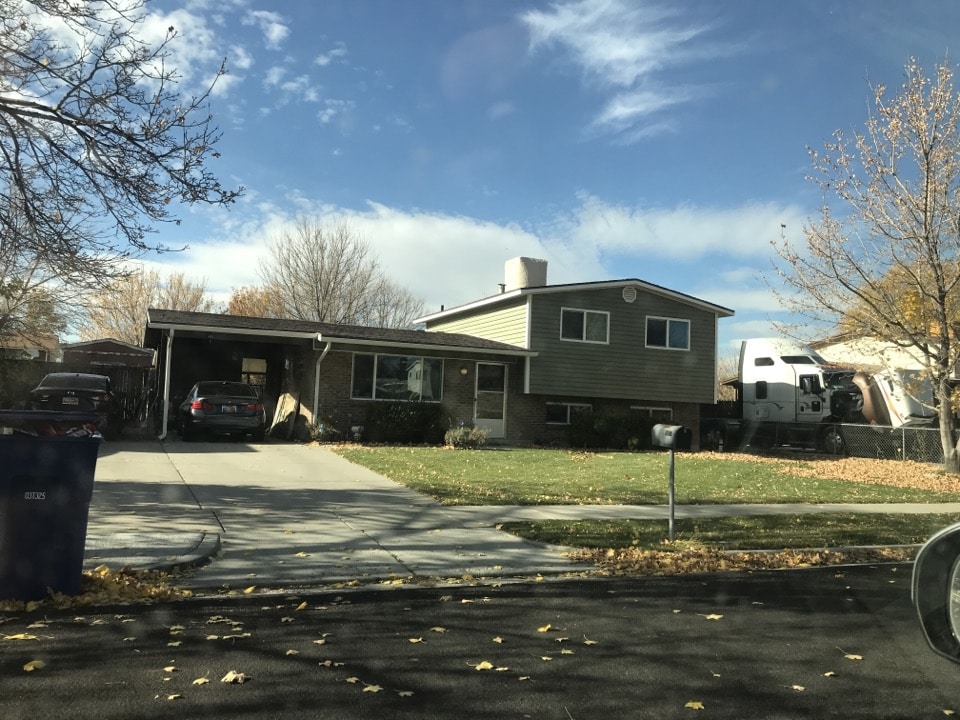 Paul B.
Trying to track down the personal representative of an estate that is scheduled to go to foreclosure. Hopefully we can talk with him and see if there is an opportunity to save the home from foreclosure if he isn't already doing something.
Near
Atherton Dr,

Taylorsville

,

UT

84123

Gordon P.
I just completed a short notice structural reconfiguration for in the home office of a close business associate of the WeBuyHouses.com team. A step in a renovation was overlooked and I was happy to be able to correct that quickly for him. I've pulled the WeBuyHouses.com multi-task service van into Wal Mart parking lot to tidy up some paperwork and refill the snack drawer before heading to the next job. I park near the main road to make folks aware that we buy ANY HOUSE, ANY CONDITION....FAST !!
Near
S Redwood Rd,

Taylorsville

,

UT

84123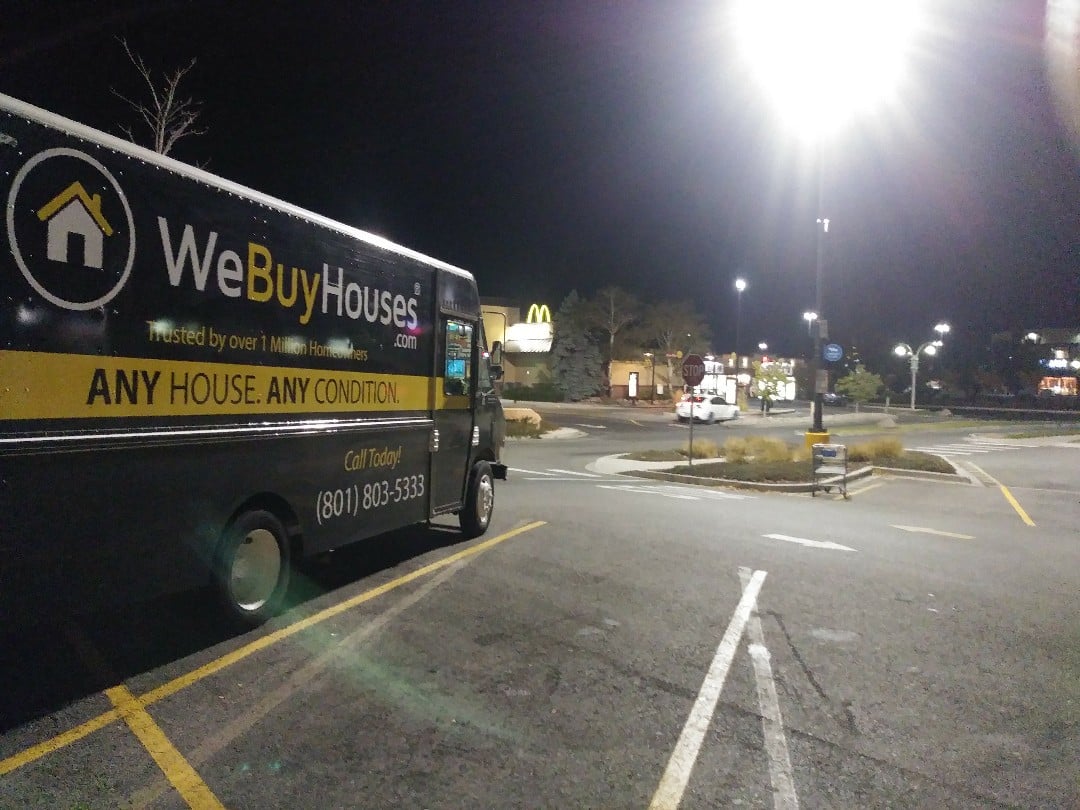 Paul B.
Looking at a house that is currently in foreclosure. Hopefully we will be able to talk with the Homeowners and see is there is an opportunity to help them out.
Near
1630 W,

Taylorsville

,

UT

84123

John B.
Meeting with a seller to buy his house for cash
Near
Royalwood Dr,

Taylorsville

,

UT

84129